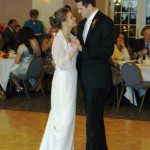 Weddings surrounding Christmas are always a bit more special. You've got the excitement of a wedding added together with the festivity of the Christmas season. It all adds up to a very incredible experience.
I had just an experience this past Friday as I had the honor of presiding over the wedding reception of Tom and Kelly, two of the nicest people. I knew the night would be great when I approached Kelly soon after her arrival at the reception hall to welcome her. As I extended my hand to shake hers, she gave me a big hug and said that she was a hug kind of person. If that isn't a great way to start off the evening, I don't know what is.
Justin's Grill, in East Syracuse near Carrier Circle, was the reception site. What a beautiful facility it is. Not only is it a fine restaurant, but the banquet hall is gorgeous, with incredible crystal chandeliers, a wonderfully large dance floor and a great ambience overall. The staff and service is impeccable. Thanks to Mary and Heather from Justin's Grill for making me feel right at home.
Tom and Kelly had their first dance to "My Kind of Woman, My Kind of Man" by Vince Gill & Patty Loveless. The Father/Daughter and Mother/Groom dance was to "Butterfly Kisses" by Bob Carlisle and the Wedding Party dance was to "At Last" by Etta James.
It was so much fun to be able to work for Tom and Kelly. The guests were very appreciative and egged me on to play "one more song" after the last dance. I was only too happy to accommodate them!
Congratulations Tom and Kelly… I hope your honeymoon in the Greek Islands is fabulous. Enjoy a few of the photos I took at your reception.