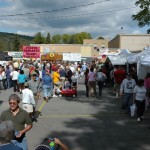 Last weekend, Sept 28-30, was the weekend of the Grape Festival in Naples, NY. This is a really fun event to attend and it is well attended, believe me. Someone told me that the crowd on Saturday was estimated to be 80,000. That's pretty remarkable especially when you consider that the New York State Fair, on a good day, will get about the same number of attendees.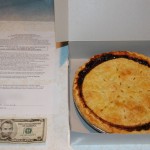 My in-laws live nearby in Wayland, NY and so my wife and I hopped in the car to visit them and attend the Grape Festival. As those of you who saw me on Bridge Street a couple months ago know, my Mother-in-law makes an awesome Grape Pie. A Grape Pie is largely unheard of outside of grape growing regions such as the Finger Lakes, so for many people, it's a very unique taste sensation. It was a lot of work but we finally convinced my Mother-in-law to enter one of her pies in the Grape Pie contest. Here is her entry form and pie.
Here are some photos of the whole clan and the judging of the pies.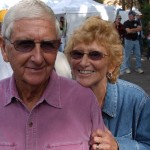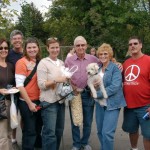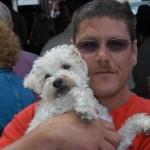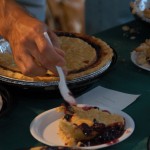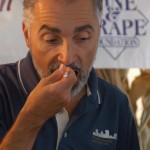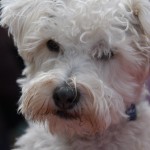 I need to point out that the dog, Owen, had nothing to do with the judging or eating of the Grape Pie. He was there for entertainment purposes only. Owen is what is called a "designer dog." I believe a cross between a poodle and a schnauzer. Maybe a "schnoodle"? Are you chuckling right now? Weren't mixed breeds called "mutts" or something before this "designer dog" business started? Whatever…
Owen is one of the cutest dogs around no matter what he is. We love Owen! How can you not just adore this cute face?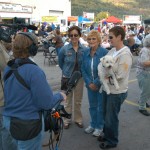 An exciting thing that happened while the family was at the festival. A television crew from a Rochester New York Public television station was there. They followed my Mother-in-law through the process of entering her pie, to her reactions throughout the judging process. It was really fun and will be part of special series to be aired on public television in the Early Spring of 2008.
There are a lot of other things going on at the Grape Festival… a great variety of arts and crafts, grape stomping, food vendors, live music at a number of stages throughout Naples and lots and lots of fun. The weather this year could not have been better.
Oh and by the way, the judging did not go as well as we had hoped… my Mother-in-laws pie did not win the contest. Obviously the judges were off their game and being distracted by the crowd because there was absolutely no question whatsoever, as far as the family was concerned, that my Mother-in-laws pie was absolutely the best pie in the competition. Seriously. I would not lie or exaggerate about something as serious as a grape pie. She does make the best grape pie I have ever tasted. I hope she makes me another pie soon. Please mother-in-law, please make me another grape pie? MMMMMMMmmmmmmmm.