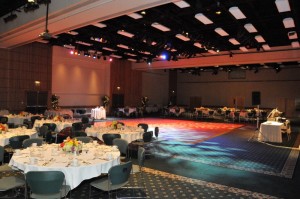 I've had the pleasure of working at the Ithaca College Emerson Suites many times over the years. Everything from formal dances, to celebration parties and reunion weekends. But working a wedding reception at the Emerson Suites is a total experience. First of all, the space is enormous and the staff is unbelievable, not only in how many staff there are, but in the quality of service they provide. And for me, being a complete perfectionist, the way the lighting crew (yes, they have a lighting crew for the room) sets the lights on the dancefloor and for the entire room, is just beautiful.
So this, then, was the magnificent setting for the wedding reception of Peter and Melissa.
Ithaca College sits high atop a hill and during the cocktail hour, the guests are mostly outside of the main room of the Emerson Suites, in a glass-walled hallway that has an amazing view of Cayuga Lake.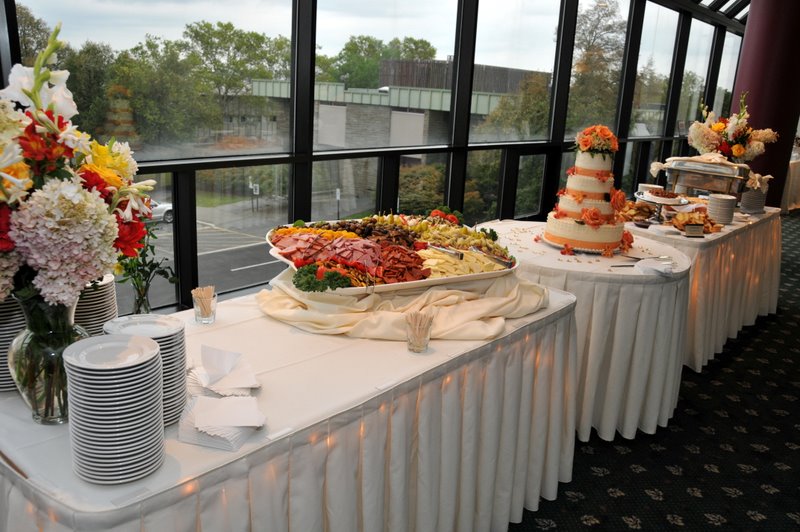 At the conclusion of cocktail hour, all guests entered the main room and I presented the parents and Wedding Party in the formal introductions. Right after that, the Bride and Groom had their first dance to the song "At Last" by Etta James.
After the First Dance, the meal was served and it was delicious. Once the dancing started, the dance floor was non-stop action all night. The guests were having great fun, dancing up a storm and making really fun music requests.
This was a wedding I"ll not soon forget. Thank you Peter and Melissa for choosing me as the MC and DJ for your spectacular wedding reception. Enjoy these additional images of your big day…