Click on any thumbnail for a larger version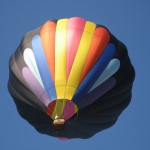 Wow, what an event! This was the second year in a row that my wife and I were able to attend the Festival of Balloons in Dansville, NY. Last year we did not go onto the grounds but parked in a side lot and viewed the balloon launch from quite a distance away. Although that was nice, this year we went right into the festival and were literally a few feet away from the balloons as they were launching. It was spectacular.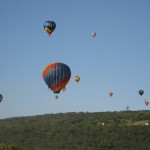 The night we were there was the last launch of the weekend and I believe that there were over 40 balloons in the air at one point. Once the balloon launching started, one, two or three balloons were going up almost at the same time and this continued for quite a while. At first, the balloons are laying on the ground and the crew starts blowing air into them with large fans to partially fill them. Once that has been done, they begin to carefully turn on the propane flame and they begin filling the balloon with hot air which then begins to make the balloon buoyant enough to start rising until it has been fully inflated.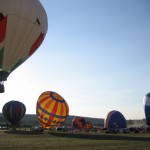 At that point, the crew is holding onto ropes, keeping the balloon tethered until it is time to release it… or until they begin to be lifted off the ground, whichever comes first apparently.
There was a gentle breeze to the North East so as soon as the balloons were air-born, they began drifting towards the ridge just opposite the Dansville Airport. It was kind of scary to watch because as some of the balloons approached the ridge, they appeared to be caught in a downdraft and it looked from our vantage point that they were in danger of scraping the treetops. I'm really not sure whether it was an optical illusion or whether they actually were that close to the trees.
I was strongly considering taking a balloon ride this year but when I checked out the price ($200 per person) I decided against it. Not that I think that is too much money…it just wasn't in the wallet that's all. When you think about it, $200 for an hour or so ride is probably a good deal. Seeing as it costs me $15 just to fill up my dinky propane tank for my grill, I'm sure the cost of propane alone for a flight is pretty significant. Maybe next year!
The weather this year could not have been better. There was not a cloud in the sky. It was just a perfect blue and with a gentle breeze. What a great event. I highly recommend you try and attend the Balloon Festival one of these years. It's always held on Labor Day Weekend and this year marked the 26th Anniversary of the event.
Here are a few more photos of the balloons…