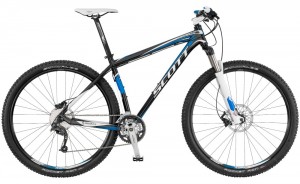 I recently got a new Mountain Bike… a Scott Scale 29 Team. It's a pretty nice ride for the type of riding I do and the salesman from the place where I purchased the bike was telling me about places in the area to go riding. When he mentioned this place called "split rock quarry" in Camillus, I was psyched because I live in Camillus and it sounded like a great place to check out. The salesman said that there were "miles" of trails, not only in the quarry proper but in the surrounding woods too.
Today I ventured up Kasson Road and located the trailhead to the quarry. I did not see any "No Trespassing" signs so it appeared I was good to go. Just in case you're curious as to where exactly the quarry is, here is a map showing the location.

View Larger Map
It's quite mind-boggling how large an area this quarry covers. I mean it's surrounded by residential area, but when you're in the quarry, it's like you're on another planet. It's huge and wooded and, well, a little crazy. It wasn't until I got home and talked to a neighbor of mine that I learned about the history of Split Rock Quarry.
In the early 1900's it was your basic quarry. But during World War I they started producing TNT there. Ultimately there was a huge explosion where 50 men were killed, and many more injured. Some of the corpses were never identified and were buried in a common grave (which is not on the quarry site.) Ever since, there have been reports of ghosts and paranormal activity there. Creepy if you believe in that sort of thing.
I do plan on returning to Split Rock Quarry in the near future only this time I'll be hiking in with my camera and hope to get some great shots of the stone crusher and tunnels. Check back to this blog to see those.
Here are a few links that discuss Split Rock Quarry in more detail