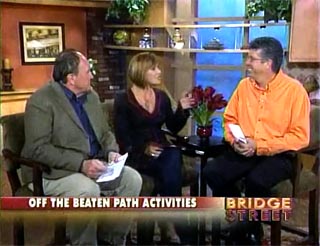 This morning was my second appearance on the program "Bridge Street with Rick and Julie" which is broadcast on 9-WSYR, Syracuse.
My first appearance was back in February 2007, when I talked about unique places to get married in Central New York. This morning I had the pleasure to talk about some "out of the ordinary" places to go for family fun. It was so much fun being able to speak on television about a few of the wonderful opportunities there are in Central New York for entertaining activities.
Here is the list of the unique activities that I discussed on the show…
1. Malabar X, a beautiful schooner that sails on Seneca Lake from Seneca Day Sails in Watkins Glen.
2. Esperanza Rose, is a 65′ wooden cruising vessel that offers sightseeing tours on Keuka Lake.
3. Adirondack Scenic Railway, offers nostalgic train excursions into the Adirondack Park.
4. Harris Hill Soaring Center, offers glider rides and has a Soaring Museum in Elmira, NY.
5. Hoopes Park, has a Tuesday evening, Music and Movie night on the lawn in Auburn, NY
Here is a link to the actual video of the live broadcast.
I'll be on Bridge Street with Rick and Julie again on July 25, 2007. See you then!