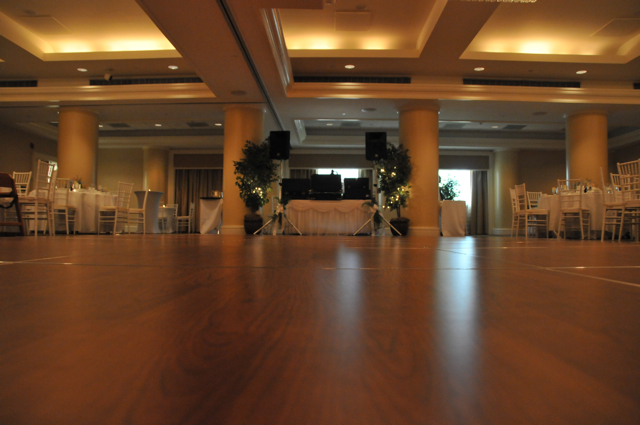 When I think of a venue that exudes a classy atmosphere, I oftentimes think of the Statler Hotel Ballroom on the Cornell Campus. It's a very nice room with an elegance all it's own. With the special touches that Michael and Stephanie added, it made the room look even more spectacular. One notable addition was the dancefloor that had been expanded in size to accommodate a very dance oriented group of guests. I think this was one of the largest dancefloors I have seen at a wedding and certainly at the Statler.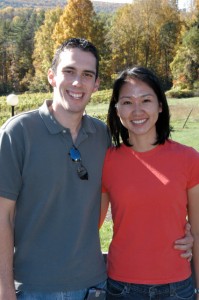 Michael and Stephanie were a wonderful couple to work with. I met them during our introduction meeting last year at the Six Mile Creek Vineyard (the site of my wedding in 2003). Here's a photo I snapped of the happily engaged couple.
We had numerous emails back and forth over the months leading up to the wedding and we both felt comfortable with the itinerary which included some special details. One such detail was the timing of the beginning of the Bride and Groom's first dance. The song they danced to is Ben E King's, "Stand By Me" and Mike and Stephanie had a specially choreographed dance to go along with the song. What a wonderful job they did on the dancefloor!
The Statler did a wonderful job as usual and it is always a pleasure to work with Nicole and her staff.
It was a great evening which everyone enjoyed and I just have to share the email that I received from Mike and Stephanie a couple days ago in which they expressed their gratitude…
Hi Michael,

Thank you so much for helping to make our reception so wonderful!  We got tons of compliments on how great our DJ was (played good music at a good volume, etc.), and we totally agree!  We also really liked your announcing… you have a great voice!  So thank you for all your work and for helping to make our evening so great.  It was a pleasure working with you.

Thanks again and take care,

Stephanie and Mike
Wow! Thank you two for allowing me to play a part on your wedding day. Hope your honeymoon in Brazil is fantastic.