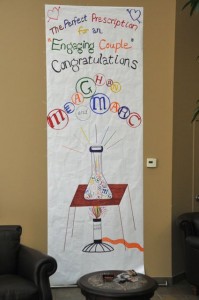 I had the pleasure of providing the entertainment for Meghan & Marc's engagement party. Marc's mother organized the party at the Fayetteville Mall Atrium. Guests were all dressed in White and even the food carried that same theme. It was quite imaginative. The guests started arriving around 7:30pm and by 8:00pm the party was in full swing. A welcoming toast was given by the Groom's mother, Sue and a bit later the Best Man, Jason, gave his toast.
It was a fun group of people and some lively dancing occurred. Of course there was the formal dance including Marc and his mother and Meghan and her father. They danced to "My Wish" by Rascal Flatts. I was also asked to incorporate a few fun things to keep the party interesting. One thing I did was "The Shoe Game." In this the bride and groom sit back to back in chairs, holding in their hands one of their shoes, and a shoe of their mate. I ask a series of questions and each person holds up the shoe best answering the question I ask. For instance I might ask "Who was the first person to say I LOVE YOU". Depending on what questions get asked, this can be a hilarious event… and it was. The guests and couple enjoyed The Shoe Game. Later on in the evening I conducted an Anniversary Dance during which I ask couples to leave the dance floor based on how long they've been married. At the end, only the longest married couple was left and was given a nice little gift by Sue, the groom's mother.
It was a great evening of fun, food, conversation and dancing.
Here are a few of the photos I took.