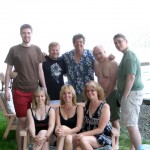 Luke Walker, a great photographer and friend, invited a group of fellow photographers and other wedding professionals to his cottage at the southern tip of Skaneateles Lake this past Tuesday. It was a great time and the weather was fantastic. It has been a beautiful summer from my point of view, and we've escaped the really HOT weather… at least until today. But Tuesday was just perfect, not too hot, not too cold.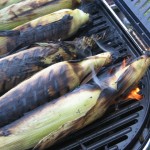 Marybeth Longo provided some heat on the grill, as is becoming a tradition. She grilled some awesome chicken and her now famous "Corn on the Cob Flambe." What is the secret recipe to corn flambe? Well as best I can gather, you first soak the corn without removing the husks, in water for a while. Then you turn the grill on until it reaches super-nova stage. Once the proper temperature has been reached you put the corn on the grill and close the cover. Then you walk away and talk to your friends for a really long time. Once you realize the corn is in flames, it's done! I love it!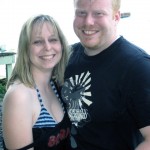 Luke and his sweetheart, Alisha Clark, another awesome photographer, struck a pose for the camera. By the way, I was the only person with a camera at the party. I'm a DJ, not a professional photographer. Let's see, we had Brady Dillsworth (a professional photographer), Sarah and Matt Antonino (both professional photographers) and Marybeth Longo (who is a videographer, but that's close enough to a photographer for me)… and I'm the only person with a camera??? What's wrong with this picture? (no pun intended)
Thanks Luke for a great day. Wish I could have stayed a bit longer. Enjoy the rest of your week there.