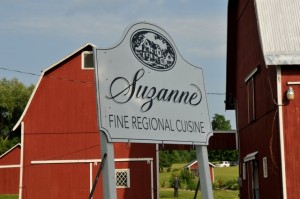 Lauren and Matthew had their ceremony and reception at Suzanne's in Lodi, NY. This was my first time at Suzanne's and I was extremely impressed with the beauty of the location, the quality of service the staff provided and the food that was served. First class all the way around. The large, recently refurbished barn was a fantastic space to have the dinner and dancing… the large (and I mean large) sliding doors on both sides of the barn open fully to allow gorgeous views of Seneca Lake on the one side, and on the other, views of wildflowers and a very cool garden shed in the midst of a beautiful flower garden.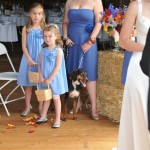 One of the unique aspects of the ceremony was the fact that the ring-bearer was a dog. Yes, a dog. But a very friendly and happy dog who fulfilled his role perfectly. With a gentle breeze wafting through, Lauren & Matthew exchanged their vows and became husband and wife.
Cocktail hour was outside on the two-level deck behind the restaurant. Just beautiful with wildflowers and meticulously maintained vegetable gardens. After cocktail hour, guests made their way back to the barn for the meal and dancing that would follow.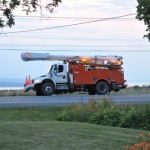 One little surprise occurred when the electric power suddenly went out. After checking fuse panels, circuit breakers and anything else we could check, we concluded that it was not "us" that caused the power outage, but something else. After a phone call to NYSEG, who quickly dispatched a truck to the scene, it was discovered that a fuse blew in the transformer across the street from Suzanne's. Normally a power outage would cause all music to stop completely, but some quick thinking on my part resolved that dilemma as well.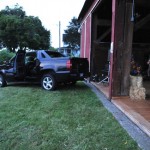 One of the guests pulled their truck with an awesome sound system in it, up to the barn doors and I was able to patch my laptop with all the music into his sound system and play music throughout the meal and even for the first dance. Fortunately, NYSEG was able to restore power after a short while and the guests erupted into applause as the lights suddenly popped on; a great relief that enabled the reception to continue with no further surprises.
The guests were enthusiastic dancers and the evening went by too quickly. It was just a wonderful place with such positive energy… one of those weddings that I will remember for a long time. It was good to work with a friend and awesome photographer, Shai Eynav as well as to meet Bob (owner of Suzanne's along with his wife Suzanne.) The wedding planner was Jennifer from Ceremonies and Event Planning of the Finger Lakes.
Thanks to Lauren & Matthew for choosing to use my services. I hope you enjoy these photos that I took.