Autumn has been kicking into high gear lately and the weekend of October 4 is pretty much when the colors started exploding. Jamie and Evan had a perfect day for their wedding reception at The Fontainebleau Inn.
During the cocktail hour, a Cornell University acapella group, "Cayuga's Waiters," performed for the guests on the outside, covered patio. A variety of great songs were sung and Jamie was being wooed by the group as can be seen in this photo…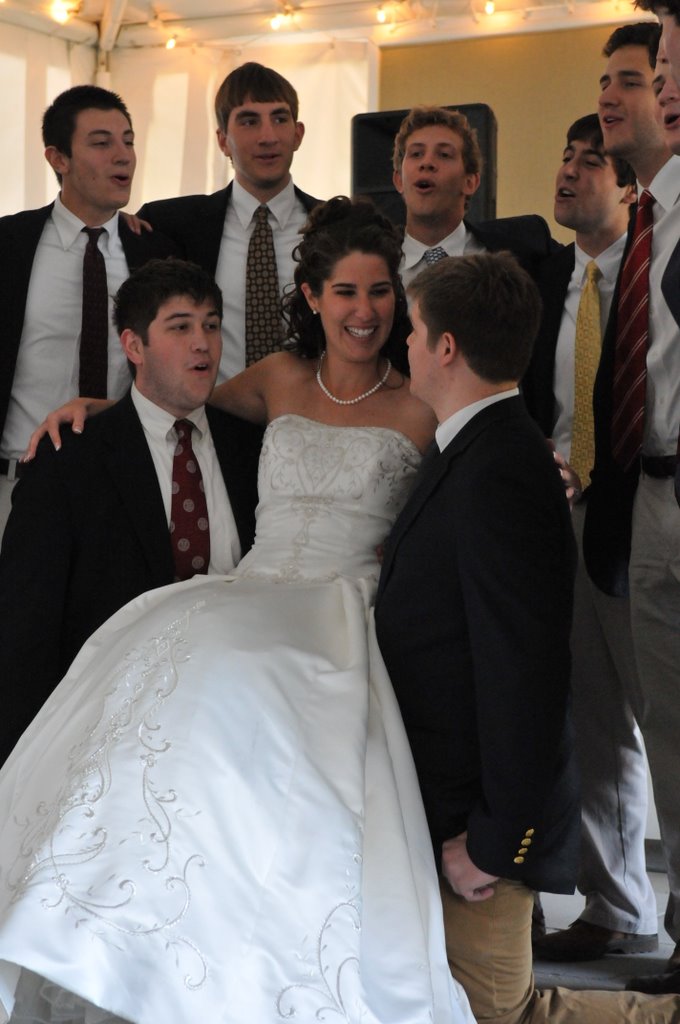 At the conclusion of the cocktail hour, Formal Introductions took place and immediately after the Bride and Groom were introduced, they had their beautifully choreographed First Dance to "Home" by Michael Buble.
The Bride's Mother, Katia,  had a big surprise in store for Jamie. Katia had secretly been taking singing lessons for several months and had prepared to sing a special song ("I Hope You Dance") dedicated to Jamie and Evan. I had a stealthy introduction prepared to let the guests know that something very special was about to happen but at the same time I did not want to give away the surprise as to who or what it would be. So after I made my announcement and left the microphone in the stand in the middle of the dancefloor for the "unknown" person to take and begin the song… something I could not have anticipated happened. Another guest who had also prepared a song to sing approached the microphone and began to sing. Not only were the Bride and Groom surprised, but so was Katia,  and me. It was one of those things that had  an "OMG" stamped all over it.
As the other guest was singing to the Bride and Groom, the already nervous Katia came up to me and asked me what she should do. I quickly put her at east and told her that this would all work out and that I would just make an additional announcement when the first singer was done and she could then sing her song. It was really a brilliant "mistake" because everyone was truly surprised and it was one of those impossible to predict, special moments that will be remembered by everyone.
After an amazing meal, prepared by Word of Mouth Catering, more formal dances took place; the Father/Daughter ("I Loved Her First" by Heartland) and the Mother Groom dance ("Cheek to Cheek" by Julie Andrews).
A wonderful period of dancing ensued and it was a great pleasure to be able to be a part of Jamie and Evan's wedding. Thanks so much. Here are some more of the photos I took at your reception…