I hope you had a great Thanksgiving! My thoughts were focused on the son (David Seaman) of a friend of mine who is serving our country in Iraq. I could not help but to reflect on the significance of his sacrifice while I am my family were enjoying a bountiful feast in the comfort of our home. The reality of what David was experiencing was in such stark contrast to what I was experiencing. I pray for him daily. Our troops need our support.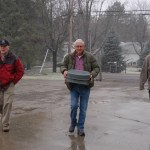 This Thanksgiving was spent at my In-Laws. It's sort of become tradition that I am the one responsible for cooking the turkey. This year I decided to try something completely radical and chose to deep-fry the turkey. This was not a decision that was made without a serious amount of consideration because if I were to fail at my task and deliver a less than perfect turkey to the table, I'd have 30 really hungry people to deal with. So yes, I was a bit nervous about this undertaking. I put in my due diligence and researched as best I could the process by which you deep-fry a turkey.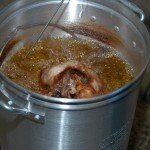 You've probably seen the contraptions that are sold just for this purpose. A large aluminum pot sits on top of a propane burner/stand. You put in the proper amount of vegetable oil, heat it to 375 degrees, gently lower the turkey into the oil then reduce the oil temperature to 325 and let it fry away for about an hour. Technically you let it cook for 3 minutes per pound up to 15 pounds, or 3.5 minutes per pound for a turkey over 15 pounds. Our turkey was 19.5 pounds and it took about 70 minutes to cook. Very little preparation was done except for rubbing the cavity and the outside of the turkey with a poultry seasoning. Other than that nothing else was done.
The end result was a complete success. It was one of the tastiest turkeys I've ever eaten. Everyone agreed that it was really moist and extremely flavorful. You might think that it would leave some kind of greasy taste in your mouth, but there was none of that whatsoever. I think I'll have to do that again and can heartily suggest if you're looking for a different way to cook your next turkey, give deep-frying a go. It's well worth the effort.
Here's most of the group that got to enjoy the feast…