Sheldrake Point Vineyard was the location for both the ceremony and wedding reception for David and Adriana.
I've known David, the groom, for many years going back to when I lived in Ithaca. We lost track of each other when I moved to Syracuse (after getting married myself) almost 5 years ago. Several weeks ago, David reconsidered having someone else DJ the reception and called me, which was a wonderful surprise. We spent some time catching up with each other and began making plans for the wedding reception.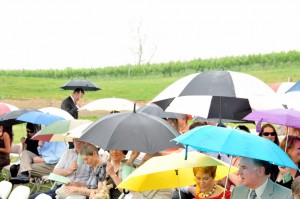 It's a bit funny how you can plan and plan and plan for a wedding reception, carefully plotting out a perfect timeline…. revise it, adjust it, move it and then see the whole thing fall apart the day of the wedding due to unforeseen circumstances. That's pretty much what happened. David had sent me several timeline changes as we approached the wedding day and with the latest, most up to the minute timeline in my hand, I hopped in my car and headed off to Sheldrake Point.
The weather was hot and humid with the forecast calling for thundershowers. The ceremony was to be outside on the lawns of Sheldrake Point Vineyard which overlook Cayuga Lake. It's quite beautiful.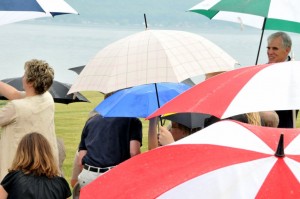 As guests were being seated, the clouds fulfilled their mission of bringing rain, but only a little bit of rain, just enough to cause everyone to begin wondering if it was going to get worse. A decision was made to relocate the ceremony to the reception tent. Even as the guests were making their way from the lawn to the tent the rain sprinkle was diminishing. And of course, the rain eventually stopped and it didn't rain a drop more after the move. But this wasn't about the weather, it was about David and Adriana and in the end it was a minor inconvenience that didn't impact the wonderful ceremony that took place in any way whatsoever, except to alter the meticulously planned timeline.
Just a side note to other prospective brides and grooms… when planning your timeline, don't agonize over milli-second perfection of timing when the various events will occur as there will inevitably be instances where events will be delayed by a few minutes here and there. Rest assured that the professionals you have hired will be able to handle such timing adjustments with aplomb.
After the excellent meal, dancing ensued and a fine time was had by all.
Thank you David and Adriana for allowing me to be a part of your amazing wedding. Enjoy some of the photos that I took during the course of the day…