The amazing summer of 2007 continues. Clayton and Meghan were married this beautiful day in Sage Chapel at Cornell University. The wedding reception took place in the Statler Hotel's Terrace Room.
I love working in the Statler Hotel. The staff is so professional and Nicole Boosembark, the Events Planning Manager at the Statler is so pleasant to work with. The Terrace room is also one of my favorite rooms to perform in.
The Bride and Groom had their First Dance to the song "Time to say Goodbye" by Andrea Bocelli and Sarah Brightman. Meghan and Clayton were a pleasure to work with leading up to the wedding. Choosing the songs for the Formal dances was a process that took several weeks. Ultimately though, the songs chosen were the "right" ones for many reasons.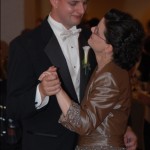 Clayton and his Mother danced to a version of "What a Wonderful World" sung by Eva Cassidy. The story of Eva Cassidy is a tragic one and I won't spell it out here but please visit the website and investigate her music if you are not familiar with her. She has a voice like no other. She is arguably one of the most talented "unknown" artists of our time. The song "What a Wonderful World" will bring a tear to your eye.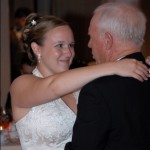 Meghan and her Father danced to ""Take My Breath Away" by Berlin.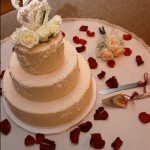 The wedding cake was created by the incredible Marion Ferrar of Sincredible Pastries. Marion consistently creates some of the most beautiful and delicious cakes you're likely to see. Usually I'm lucky enough to get a piece of cake at receptions but sadly (sadly for me that is) I was too busy to be able to enjoy a slice of this one. Sometimes the cake at receptions is so… well… how to put this… terrible. But Marion's cakes are just delicious and so gorgeous.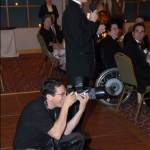 Shai Eynav was the photographer. I've known Shai for about 4 years and have worked at numerous weddings with him. One of Shai's specialties is panoramic photography. Visit his website and prepare to be dazzled by the beauty of his images. Here is a photo of Shai during the Best Man's Toast, getting reaction shots of the Bride and Groom during the toast.
It was a beautiful reception and I was honored to be part of the celebration. Clayton and Meghan are honeymooning in Hawaii and I send them both my best wishes! Thank You!
Enjoy a few more photos that I took of your wedding reception.