Dave Olson, my old high school buddy and long-time friend, and I trekked to Algonquin Park for an incredible late-summer vacation. Algonquin Provincial Park is located in Ontario, Canada and the southern edge of the park is about 4 hours north of Toronto.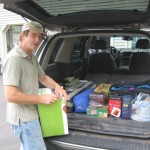 Dave and I have traveled to Algonquin many times over the years. This was trip number 12 or 13 as best I can recall at my advanced age. On August 15, 2007, we loaded our gear and supplies, put the Canoe on top of Dave's Ford Explorer and decided we'd take a rest then leave around midnight. Well, after an "alarm malfunction" which was actually operator error on my part, we awoke at 1:30am which put us a bit behind schedule. Grabbing a couple cups of coffee, we headed off to the North country at 2:00AM.
Usually we drive through Buffalo, across the Peace Bridge and then around through Toronto up to the park. This year we drove through the Thousand Islands of New York and found the trip much more pleasant. There was far less traffic on the Thousand Islands route and the trip through Customs and across the bridge to Canada was far less congested as well. We left at 2:00AM to further minimize the traffic hassle and also to enable us to get on the water at a reasonably early time. About three hours into our trip after crossing the border, we were greeted with a magnificent sunrise. Ahhh, what a great way to start a vacation!
We had decided to enter the park on the North side at the Brent entrance. We got to the Park office around 8:30AM, obtained our park pass and continued on to Brent. It's about a 40km drive down a rough logging road to reach Cedar Lake and although the road has improved greatly over the years, it's still a dirt road with lots of washboard which makes for a bumpy ride.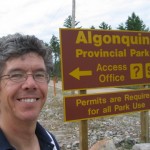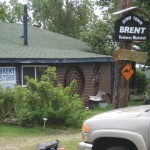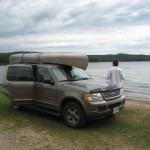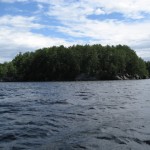 Once arriving at "downtown Brent" we walked around a bit just to ease back into the memories. Not much has changed over the years… the train station and tracks were removed 6 or 7 years ago, but beyond that, it was Brent, just as we had remembered it. The small, rustic store was still there and it was basically unchanged. We put the canoe in the water and loaded it with our gear as quickly as possible.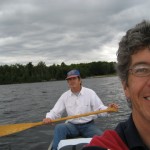 We were eager to get underway and make camp. We've been on this lake numerous times and were familiar with many of the campsites on it. Our favorite campsite, that we were hoping to stay on, is located on an island at the far end of the lake. It is near the inflowing Petawawa river and we were making a beeline to it. It was a 2 hour paddle and as we approached the island, all the great memories of past trips came flooding back to us. Ah, it was great to be "back home."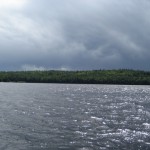 Once we arrived at our island destination, we had a couple hours to make camp and relax. However, it soon became apparent by the thickening clouds, that rain was heading our way. We scrambled and got the tent up just in the knick of time before a fairly strong, but brief, storm passed by.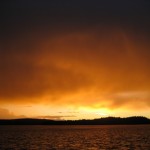 Dave's tent has seen better days and as the rivulets of water started forming on the tent floor, all we could hope for was that the rain would stop soon. Fortnuately it did and the day ended with an incredible double rainbow appearing simultaneously with an equally incredible sunset.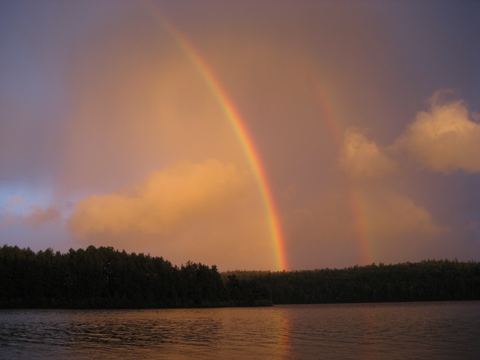 Our days were filled with day trips to various portages on Cedar lake. One of the best was the trip to the Petawawa river. It's just beautiful to hike the portage. Soon you hear a roar that is the rapids of the Petawawa river. A short jaunt down a side trail drops you off at the edge of the rapids where you're greeted by a 35 foot waterfall.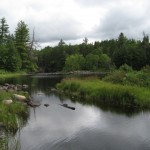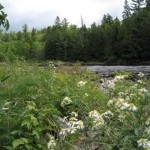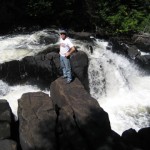 Now let's talk about food. Dave and I decided long ago that this trip was not going to be a traveling trip. In other words, we could bring a lot of "stuff" with us since we weren't going to be doing any portages with our "stuff". So when I say we brought stuff, I mean we brought comfy folding nylon chairs, nylon hammocks, coolers filled with food and generally more food.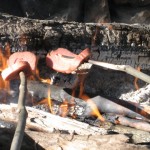 We had marinated grilled chicken, porterhouse steak, chili, spaghetti with meat sauce, corn on the cob, polish sausage and last but not least, SPAM®. There is nothing like Spam on a stick cooked over an open fire. Ummm Ummm good. And we washed it all down with some wine. Hey, we weren't messing around, this was serious business.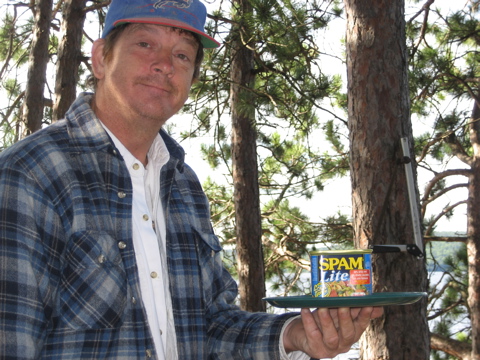 The weather cooperated with us quite nicely. Rain the first day, then nothing but beautiful weather for the rest of our time there. The lake water temperature was just fine for swimming and swim we did. Night skies were filled with stars and the moon rose late, so it really helped with the star gazing. We paddled to land nearby our island and stockpiled plenty of wood for our morning and evening fires and spent some excellent time reminiscing by the fires at night.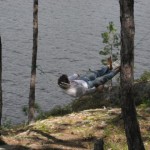 During the days, we either took day trips or spent quality time in our most excellent hammocks. These things are the best camping equipment money can buy, in my opinion. Nothing like spending a few hours in the 'ol hammock on a nice summer day in paradise.


Ahhh, so relaxing and such a good time. Here are a few more photos of the trip…