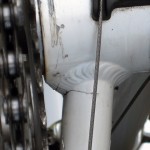 I love to ride. I bought a Fuji Roubaix road bike in 2001 and log about 1200 miles a year on the thing. I should say "logged", past tense, because three weeks ago I discovered a crack in one of the chain stay tubes, the one closest to the chainrings near the bottom bracket. This came as a complete shock to me and I immediately stopped riding the bike since to continue riding it would have been to court disaster.
As I began to mull over my options, it occurred to me that maybe the frame was still under warranty. I went to the Fuji website and was elated to discover that their frames have a Limited Lifetime Warranty. Don't even get me started on legal mumbo jumbo that let's something like a "limited" "lifetime" warranty even exist. But I was psyched. My elation soon turned to dismay when I discovered that -my- frame, in 2001, only had a 3-year warranty on the frame. Bummer.
Well, I'm a huge Fuji fan and just loved my Roubaix. It was in excellent condition, other than the cracked frame, and I decided that it could do no harm to call Fuji and speak to the warranty department and tell them my story of woe. I figured that since the bike had obviously not been abused and since the crack occurred right along the weld at the bottom bracket, perhaps they would view this as a manufacture defect even though it was technically out of warranty. The person I spoke to at Fuji told me that the bike dealer where I purchased the bike would have to call for an RMA and send the frame in so it could be evaluated. I called the dealer where I originally bought the bike, Swan Cycles, and spoke to Glenn Swan about my predicament. He called Fuji and after discussing the situation with them, Fuji decided that Glenn might only have to email them a photo of the crack rather than ship the entire frame back to them. Things were starting to look up.
So I don't quite know what the result of all this will be yet, but in the meantime I had bought a new frame on eBay. I don't know much about frames, especially road bike frames. I had been told that I should look at a Soma Smoothie or Surly Pacer frame. I wanted to get a steel frame as they typically are a bit more forgiving and consequently have a smoother ride than an Aluminum frame such as I had in the Roubaix. I visited eBay to see what was up for sale and stumbled upon a Jamis Eclipse frame up for auction. I swooped in at the last second and put in my bid for $325 and won! It was a frame value at about $950. What a sweet deal!
There was a problem when the frame was received. The all carbon fork that came with the frame was not the correct fork for the frame. So several frantic calls and emails between the seller (who was in Mexico on vacation), Jamis, and my bike mechanic ultimately resulted on a positive note. Jamis sold my dealer the appropriate fork (still carbon) and my dealer kept the old fork for his stock. The old fork was technically a better fork since it was 100% carbon whereas the replaced fork did not have a carbon steerer tube, but otherwise was carbon.
I had my mechanic move all the components from the Roubaix over to the new Jamis Eclipse frame. It's an awesome fram, with carbon seat and chain stays, and the carbon fork. The bike is built and I picked it up last night from the shop. This morning I took it out on it's inagural voyage and was just blown away by the difference in handling and the smoothness of ride. Like night and day. The weather today is fantastic, about as perfect a fall day as you could hope for and the ride was great.
By the way, I can't say enough positive things about Swan Cycles. Glenn is a legend in cycling circles and he is one of the most knowledgeable people around when it comes to discussing bikes. You can't beat his prices either. If you're in the market for a bike or just looking for a good mechanic to fix your bike, give Glenn a call: (607) 277-0495.
Here's my new bike in all it's glory.