Having just barely recovered from the wedding reception the previous day, it was off to one of my favorite venues for weddings, Sheldrake Point Vineyard for the wedding of Athan and Rachel. You really can't ask for much more than this… beautiful views, vineyard setting, great food and service…oh, and great wine!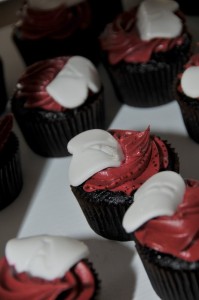 Here we are in late September and the weather was mid-August like. No, actually it was worse than mid-August, it was just plain hot and humid. How hot was it? Well the cupcakes had a confection initialed heart on them that was supposed to be sticking straight up in the air. But as you can see, the heat caused them to droop. No worries though, they still tasted good! It must have been near 90 degrees and the humidity during the heat of the day was quite opressive. Nevertheless, the ceremony took place outside, under the glaring sun where umbrellas were the rule of thumb (took the edge off the heat). A slightly damp group of guests and wedding party, made their way back to the building for cocktails, dinner and dancing.
After formal introductions, the Athan and Rachel had their first dance to "Memories of Us" by Keith Urban. The Father-Daughter dance was "In My Daughter's Eyes" by Martina McBride and the Mother-Groom dance was "It's a Wonderful World" by Louis Armstrong. After the meal dancing started in earnest and the dancefloor was crowded all night.
Well it may have been hot and humid but this group of people knew how to celebrate even under those conditions. I'm talking major party here! The groom is of Greek heritage and if there is one thing I enjoy it's watching the Greek dances that are so enjoyed at Greek weddings.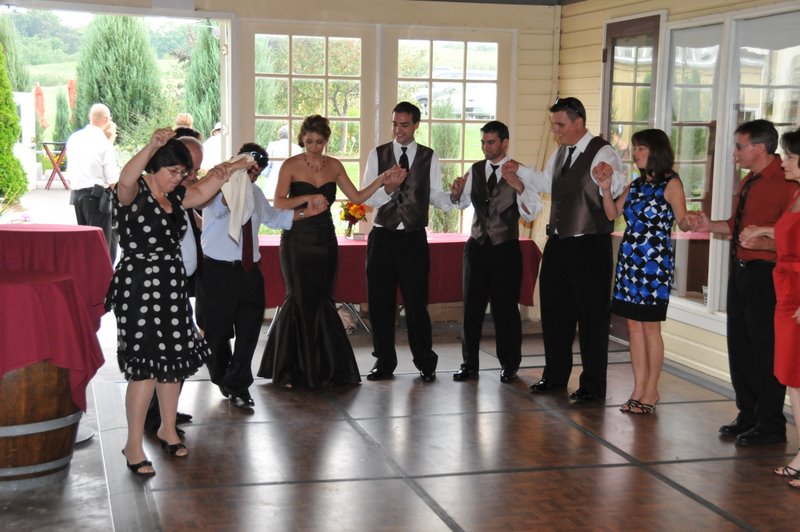 The garter removal was really fun and I was able to capture this cool sequence of photos.
This was a small group as most weddings go…not more than 75 guests I believe. Sometimes the smaller groups are difficult to get dancing, but not this group. It was a non-stop dancefest on the dancefloor. I had so much fun with this group and I want to thank Athan and Rachel for giving me all the music choices that they did. It's so much easier to craft the perfect playlist when the bride and groom provide good input into the music they like. Best wishes to Athan and Rachel and here are some more photos for you to enjoy.