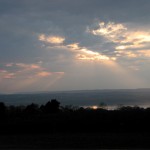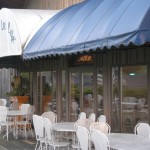 The Autumn of 2007 has been quite wonderful compared to some others. The weather has remained, up to this point, quite summer-like with warm temperatures and little rain (more about that in a minute). One thing I noticed though was the more muted colors of the leaves this year. I've heard that dry weather can cause this phenomenon as the leaves just sort of fall off the trees before really changing color much. As I was driving to the Ginny Lee Cafe at Wagner Vineyards for this wedding reception, I was looking forward to observing the Autumn colors, but there just wasn't that much color to observe. What there was however, was one heck of a thunderstorm. It rained so hard during the drive, that I had to reduce my speed to about 15 miles per hour at one point. Fortunately the rain stopped before guests started to arrive which was a real blessing.
I was really looking forward to this wedding reception. One reason was the venue. The Ginny Lee Cafe is just a gorgeous setting to have a wedding reception. It's part of Wagner Vineyard and is located on a hill up the East side of Seneca Lake. It's surrounded by vineyards, has a commanding view of Seneca Lake and because of this, sunsets are an event to behold. They can steal the show, so to speak.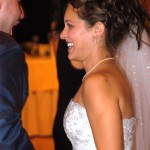 The guests had arrived and were enjoying appetizers. When the Bride and Groom, along with the Wedding Party, made their entry into the Cafe, the entire place erupted with cheers and clapping. It was awesome. Katie had the biggest smile on her face.
"Smile and the whole world smiles with you."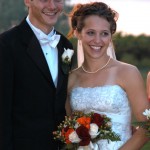 Speaking of smiles, I don't recall ever seeing a Bride with such an infectious and sincere smile. Katie was beaming every time I saw her. I took over 112 photos during the reception and every single photo that Katie appeared in, whether intentionally or not, displayed her beautiful smile.
Andy and Katie both were obviously so much in love with each other. It was plain to see by the way they look at each other. You just can't help but to feel good when you're around people like that. So maybe that's what explains the vibe of the guests…
Katie and Andy had their first dance to a beautiful song by Chantal Kreviazuk, "Feels Like Home". The Father Daugher dance was to a song by Jack Kapanka, "Angel in my Arms". The Mother Groom dance was "A Song For My Son". Here are photos of the Best Man's Toast, and the Formal Dances.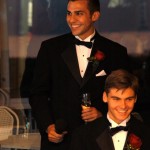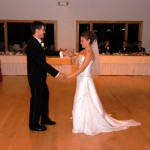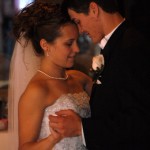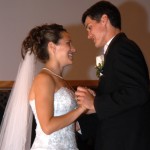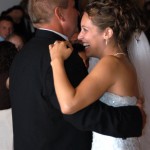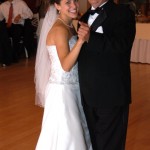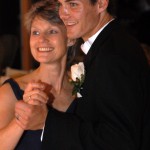 I've had the honor and pleasure to DJ/MC at many hundreds of weddings since my beginnings in 1985. As a matter of fact, I'd wager that I've worked at nearly 1,000 wedding receptions during the last 22 years (has it really been that long?). Of all those weddings, inevitably there were some that rose above the rest in terms of energy level and the unmeasurable but tangible "vibe" of the guests. But the bar just got set a mighty bit higher with this wedding reception. I don't know if it was the uncommon warmth of this early October day, or some sort of astrological juxtaposition of planets but whatever the reason, THiS PARTY ROCKED. It was a non-stop celebration that left everyone leaving with a smile on their face.
All my best to you, Katie and Andy. Thank you for letting me share in your special day.