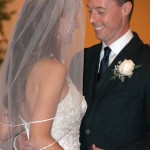 Love this couple! My wife Linda and I met Andrew and Cindy at Six Mile Creek Vineyard earlier in the summer. We needed to have a wedding reception planning meeting and Six Mile Creek was a good central location for us to meet. Well, a couple hours and a few glasses of wine later, we reluctantly ended the meeting and made our way back to Syracuse. We had such a good time getting to know Andrew and Cindy, shared some common experiences and really felt like we had made some great friends in these two. Oh, and by the way, we were actually able to get some work done!
The wedding took place at Cornell University's Sage Chapel. I've written about Sage Chapel previously… it is such a beautiful location to have a wedding. Following the ceremony, it was a short walk to the Statler Hotel where the reception took place. The Statler Hotel Ballroom is magnificent and is located right on the Cornell Campus. I enjoy working at the Statler Hotel because the staff is always so accommodating and absolutely professional in every aspect of the service they provide. The Statler Ballroom is quite grand and the anteroom is where Hors d'ouevres are served.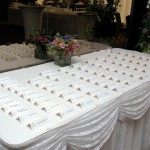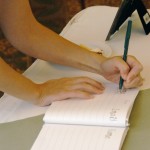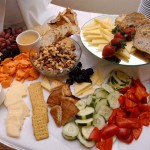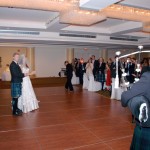 At the conclusion of the cocktail hour, guests are invited into the Ballroom and it is during this time that I get the parents and wedding party in place for the formal introductions. This introduction was a bit special however because Andrew is Scottish and the surprise was that there was a piper who preceded the entrance of Andrew and Cindy into the Ballroom. The sound of bagpipes is extraordinary and with the large contingency of Scottish guests, it was warmly received.
Andrew and Cindy had their first dance to "Annie's Song" by John Denver. Between the courses of the meal we had the Father/Daughter dance ("Lean on Me" by Bill Withers) and the Mother/Groom dance ("The Spinning Wheel" by Moira Stern)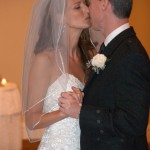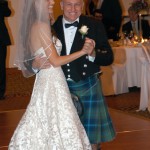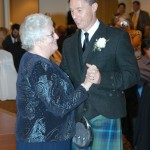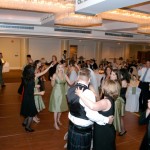 Cindy's "girls" kept the dancefloor buzzing all evening. All in all it was a wonderful event to be a part of.
Here are some more images that capture the evening. Thanks Andrew and Cindy for having me help in your celebration of marriage.
May the road rise up to meet you.
May the wind be always at your back.
May the sun shine warm upon your face;
the rains fall soft upon your fields and until we meet again,
may God hold you in the palm of His hand.
– traditional gaelic blessing