This was one of my Sunday weddings this year, of which I have a few. I had my gear packed and ready to go Saturday night so Sunday morning was going to be a relaxed affair… or so I thought. About 9:30am I received a phone call from the father of the bride who was very concerned about the ceremony and whether or not sound amplification would be necessary and if so, what could be done at this late hour since the ceremony was only 5 hours away. I gave the situation a thorough going over in my head and concluded that with the size of the guest list (about 88) that there wasn't really any need for additional amplification since the depth of the rows for guest seating would only be about four or five rows, given 10 seat rows and considering that there would be seating on the left and right sides of the center aisle. Crisis averted, father and mother of the bride relieved and my anxiety level was returned to normal.
What happened next is that I made the BIG mistake of turning on the TV. The weatherman was making a lengthy statement about how the conditions of the atmosphere were such that severe thunderstorms with damaging winds accompanied by hail were a very likely possibility. This was not what I was hoping to hear moments before leaving for the ceremony and reception being held outside and in a tent respectively. Some crises you can take care of while others are totally out of your control. I just had to hop in the car, leave, and let the weather do whatever it was going to do.
About 8 miles north from Sheldrake Point Vineyard, big fat raindrops began to hit my windshield thus seemingly affirming the weatherman's dire prediction. I was greatly relieved when a few miles further along the way, the drops stopped and no further rain ensued. Crisis number two eliminated.
What followed was a beautiful ceremony on the grassy knoll overlooking Cayuga Lake and here are a few of the photos from that moment.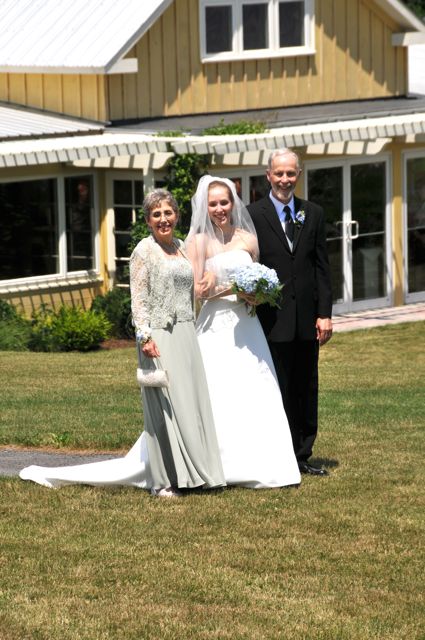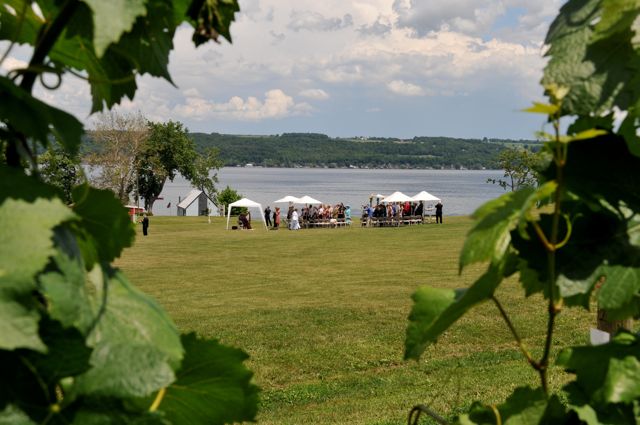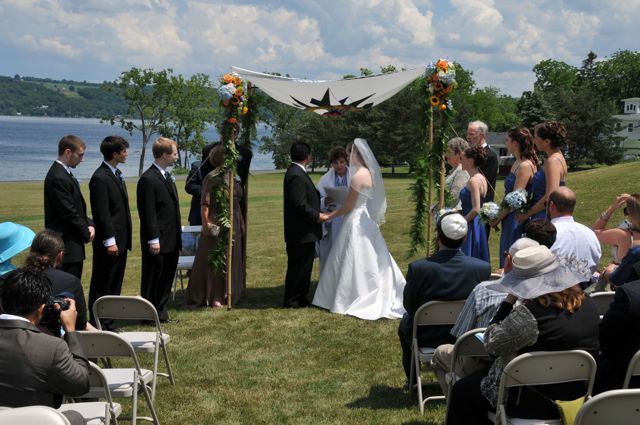 After the ceremony, the reception began and the weather continued to cooperate much to everyone's relief. The bride and groom had one of most unique and fun party favors I've ever seen. It was an entire table filled with different types of candy, all in old style glass jars. There was a nice sign with a poem introducing the concept, along with cute little bags and silver twist ties to scoop the assorted candies into. Really cool concept and fun to boot!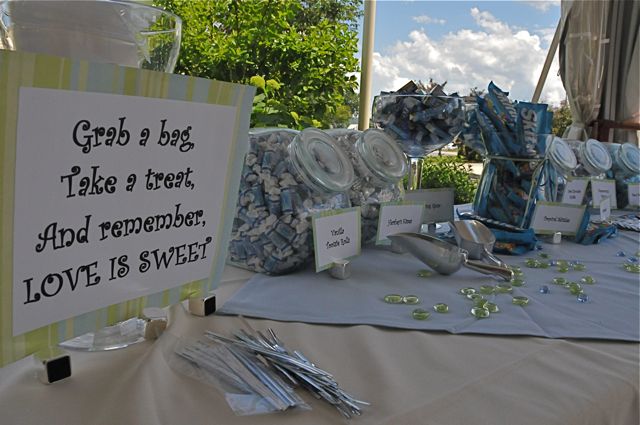 Andrea and Rafael had an amazingly choreographed first dance to "Sh-Boom" by the Crew Cuts. This was followed by a couple great toasts by the Best Man and Maid of Honor and followed by a cute poem read by the Mother of the Bride. All of this leading up to amazing meal. Following the meal was another nice dance that Andrea had with her father.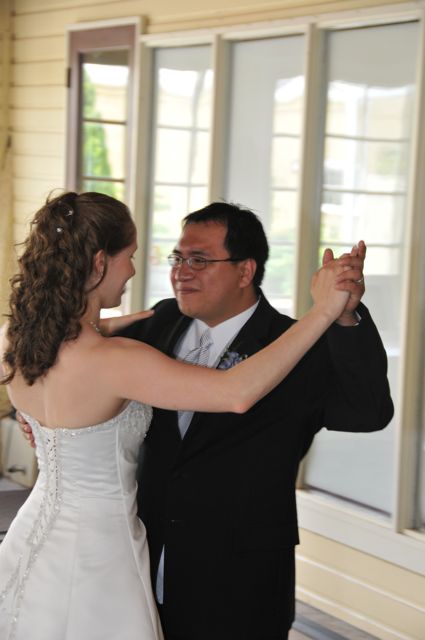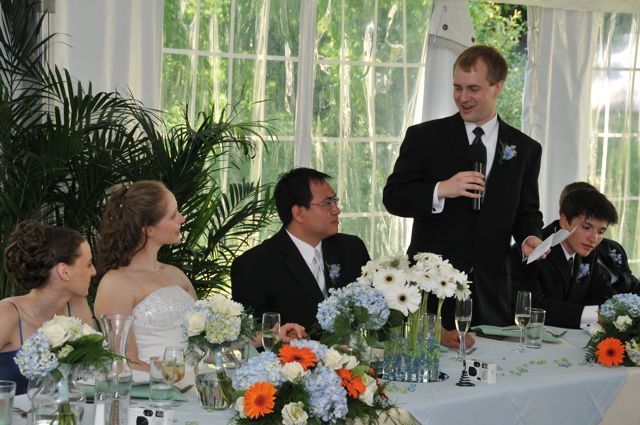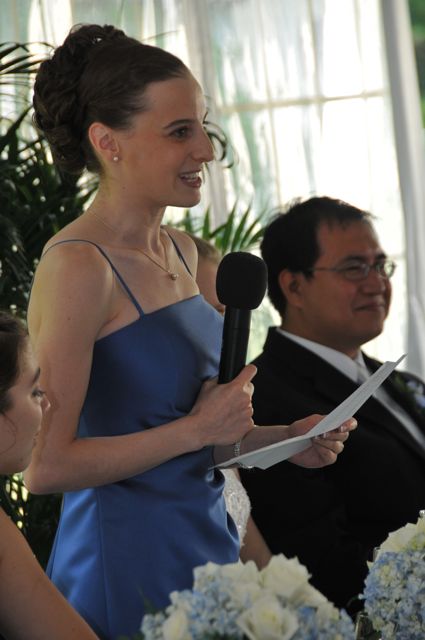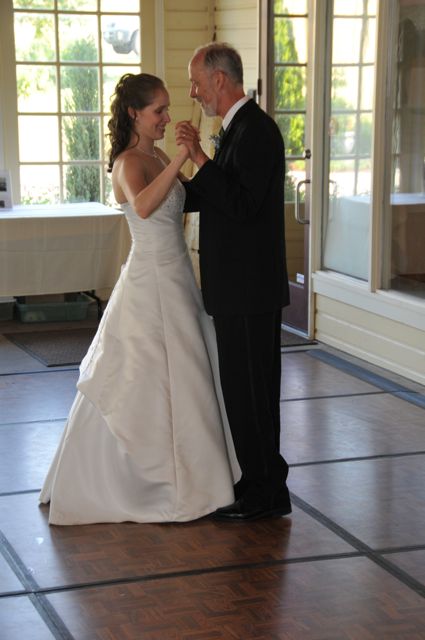 My thanks to the Sharkness family for making me feel so welcome at this special event. I've worked for them numerous times over the years. Being able to DJ this wedding was the icing on the cake. Speaking of cake, here it is…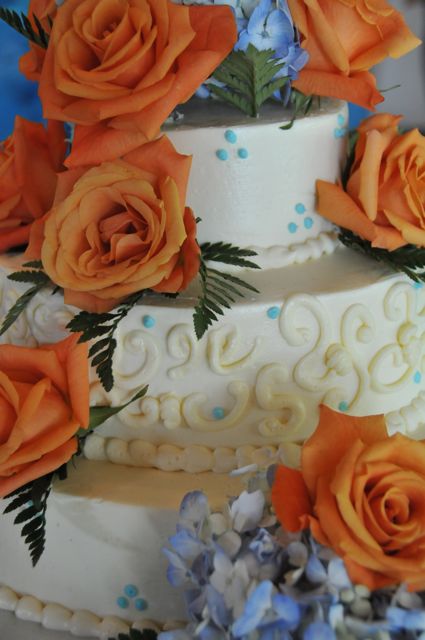 Here are a few more photos of Andrea and Rafael's wedding day…