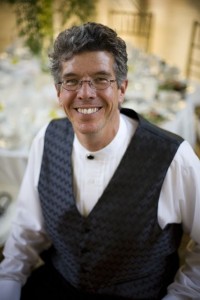 2008 continues to be a great year. The weddings I've had the pleasure of working at this year have been fantastic. The variety of venues has kept things interesting because I am always performing at a wide variety of wonderful locations. Great people, beautiful venues, lasting memories.
2009 is already shaping up to be another fantastic year too. Just in the past two weeks, I've booked 3 weddings and have had two serious inquiries in the last two days. It's exciting.
If you are considering having me be the MC/DJ for your wedding reception, do not delay to contact me as the dates are filling up more quickly than usual for this time of year. Nothing is more frustrating to me than to hear a potential client tell me how disappointed they were that I wasn't available to DJ their wedding reception because I was already booked.
Plan early, book early and relax in your good judgment.
Have a great autumn.
PS: Thanks to Alisha Clark for the head shot photograph.